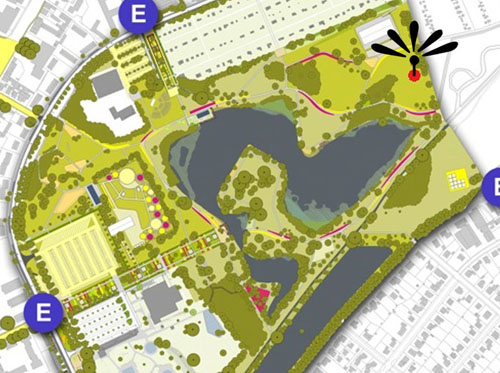 100 Tage Datscharadio was a research project supported by an additional choice of authors, sicentists, radio makers and sound researchers as well as the artist group "Gärtnerpflichten". This archive is being revised! Dieses Archiv befindet sich in Überarbeitung! Following this preliminary view of our post is a list of the 2014 participants.
The art competition of the Landesgartenschau Gießen 2014 was supported by the Hessische Kulturstiftung, the BID Seltersweg and Förderverein Landesgartenschau Gießen.
Science, Literature and Ethnography
Oliver Augst (Schriftsteller, Radiomacher und Musiker)
Bernhard Bauser (Schriftsteller und Philosoph, Videodokumentation
Abderrahim Ennosse (Komposteur, Koch, Linguist)
Astrid S. Klein (Künstlerin) und Sylvie Arnaud (Autorin)
Verena Kuni (Professorin für Visuelle Kultur, Autorin und Radiomacherin)
Holger Laake (Botanischer Garten Gießen)
Dr. Günter Lerch (Autor und Linguist)
Virpi Nurmi (Dichterin und Autorin, Leiterin interkulturelle Gärten Gießen)
Achim Szepanski (Schriftsteller, Medienwissenschaftler)
Alexandra Walker (Projektleiterin Hafengarten Offenbach; Kulturwissenschaft)
Olaf Velte (Schriftsteller)
Radio and Sound Research

Knut Aufermann und Sarah Washington (Klangforscher und Radiomacher: Mobile Radio BSP)
Werner Cee (Hörfunkautor und -regisseur, Klangkünstler)
Dirk Huelstrunk (Schriftsteller, Klangpoet und Radiomacher)
Lasse-Marc Riek (Autor, Klangforscher und Mitgründer von Gruenrekorder
Composers Open Call 2014:
Alexander Baker
Angelo Airï Farulla
Hildebrand Asgeirsdottir
Carver Audain
Guillaume Chappez
Sean Derrick Cooper-Marquardt
Jamez Dean
Regina Duerig und Christian Müller
Michael Gatonska
Christina Ertl Shirley
Inox Kapell
Kollektiv Klangensum
Gintas Kraptavicius
Dzmitry Ladzes
Jon Panther
Sandra Poppe
Sam Salem
Michaela Schimun
Coryn Smethurst
Juan Vasques
Antje Vowinckel
Guests of the year 2012 can be seen here: A new 2012 archive page is in preparation.
Artists and Participants 2012
Eine Liste aller Mitwirkenden mit Links zu deren Seiten/Arbeit.
This post is also available in: German