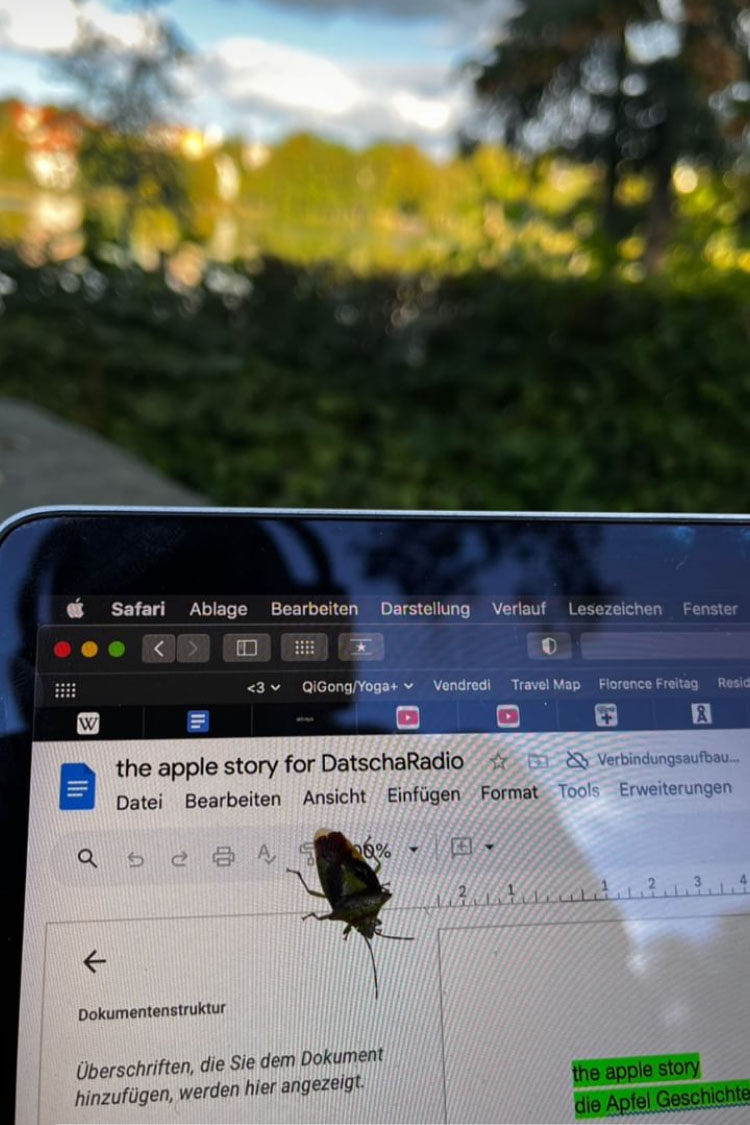 Foto: Florence Freitag hatte Besuch während ihrer "Apfelgespräche".
(Translation will follow) Datscha Radio bedankt sich ganz herzlich bei allen KünstlerInnen, die sich so vielfältig am Open Call beteiligt haben! Aufgrund der Menge und Länge der Beiträge haben wir uns entschlossen, neben den Loops für den Klanggarten, noch ein Nachtspecial zu kreieren, dass vor allem die längeren Stücke präsentiert. Der KLanggarten selbst spielt auf den DEFA-Märchenfilm "Das Singende Klingende Bäumchen" an.
Selbstverständlich werden viele Stücke (bis zu einer Länge von) ca. 6 min auch während unserer Liveshow vorgestellt. Wann und welches genau können wir zu diesem Punkt der Programmreife aber nicht sagen.
Klingender Baum 1
Auvikogue (DE): momente. gedanken. über die aufhebung der
schwerkraft von fallobst durch resonierende frequenzmodulation
Elo Masing (EST): Apple Worm (DE)
Frau Holle – Goldmarie's Bäumchen
Wald bei Nacht
Tiger Stangl (DE): Apfel Birne Quitte Pflaume
Archiv DR: Eingelegte Gurken
Klingender Baum 2
Tiger Stangl und Ian Joyce (DE, IRE): Samensinfonie
Waltraud Blischke (DE): Erlensee Equinox
Frau Holle – Goldmarie's Bäumchen
Samensinfonie (Reprise 1)
Olaf Velte (DE): Geheimnisse des Apfelweins und "Mank's Garten"
Samensinfonie (Reprise 2)
+ Waldlandeule
Klingender Baum 3
Florence Freitag (DE, F): Die Apfelgeschichte
Tiger Stangl: Knoblauch
Helmut Peitsch (DE): Erdbeermarmelade
Auvikogue (DE): Im Tal der Ahnungslosen / Bad Ditzenbach
Gabi Schaffner (DE): Baumscherenverkäufer
Chor, Archiv Datscha Radio: Spann den Wagen an
Frau Holle – Goldmarie's Bäumchen
Nachternte: 22-23 Uhr (nur online)

Expanded Garden Leopoldstadt – Heuernte LaaerBergBauerInnen [Common Rooms]

Eine Soundcollage aus Aufnahmen der diesjährigen Heuernte des urbanen Agrarkollektivs der LaaerBergBauerInnen. Das Wetzen der Sensen wechselt sich mit den Erntegesängen, Umgebungsgeräuschen wie Fluglärm und dem sanften Tröpfeln der Gießkannen ab.
Expanded Garden / Irene Lucas und Christoph Euler
Ein Projekt im Rahmen von Common Rooms // FLUCC Vienna 2023
Recordings: Nina Vobruba
Produktion / Collage: Sandro Nicolussi aka. BYDL

Asthral – Daniel Alquizaleth
Asthral is a contemporary spectral work recorded by the Stockholm saxophone quartet, representing the awakening of the process of astral travel (out-of-body experiences and their connection with nature) which are carried out mainly in autumn due to the energy of the earth present at this time of the year. anus.
Astral travel was present in different cultures around the world related to magic, the unknown and the extracorporeal connection of the human being with nature from Hindu stories, in regions of Tibet, Nordic stories and tales of medieval magicians.
How Do We Love This World, if mushrooms could talk and trees could [Wenn Pilze sprechen und Bäume sich umarmen könnten, wie liebten wir diese Welt]
REFLECTIONS ON LOVE – Laura Lukisch
TRT 16:31
Inmitten extremer Wetterereignisse ist es schwierig, Liebe und Verlust, Hoffnung und Verzweiflung zz vereinen, wenn wir Zeuge von Bränden, Regenfällen, Überschwemmungen, Erdbeben und anderen Naturkatastrophen werden, die die Welt, wie wir sie kennen, verändern. In diesem Audiobeitrag verwebt die Künstlerin Laura J. Lukitsch Überlegungen der Gärtnerin und Gründerin des Occulto Magazine, Alice Cannava, der Autorin und Psychologin Anette Pollner, der Künstlerin und Autorin Eva Fiore Kovacovsky und der Somatikerin und Lehrerin Olive Bieringa.
Read More