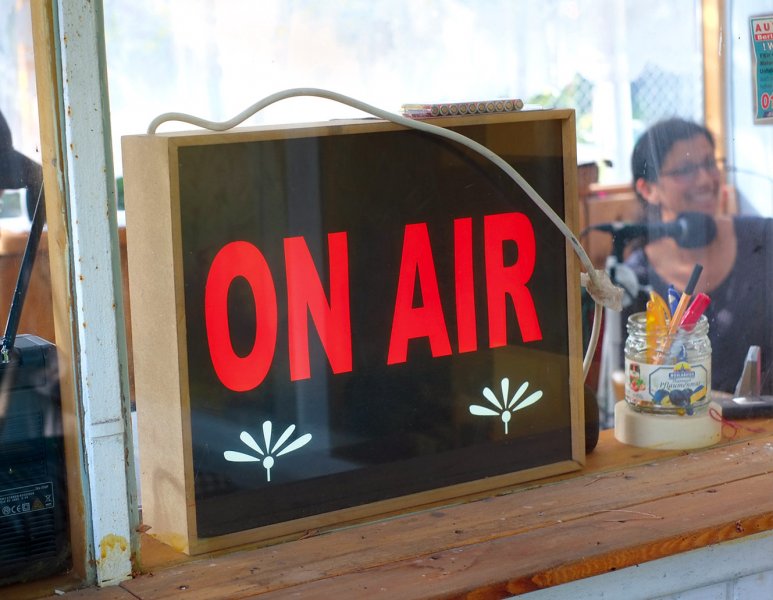 Datscha Radio investigates German garden culture and its future ecologies straight from a Berlin "Schrebergarden". Together with artists and scientists, guests and gardeners, concerts, talks and international contributions by radio artist and sound gardeners.
Datscha Radio is a temporary mobile radio station with changing locations and a global garden research project by Gabi Schaffner. It was founded in 2012 in collaboration with net activist Pit Schultz and the Berlin artist radio station reboot.fm when it staged a week of radio art events broadcasting directly from Gabi Schaffner's allotment garden. In 2014, then titled "100 Days of Datscha Radio", the project travelled to the Gießen national garden show as part of a series of exhibitions in public spaces.
Datscha Radio is based on an ethnographic and documentary approach that uses radio as a medium to gather and share knowledge on a communal yet sound art orientated basis. "The garden" functions as a metaphor and matrix for organic growth, community and intercultural sharing.
Datscha Radio as a micro radio station was activated again in 2017 and 2018.

2018: Within the frame of Medialab Prado's artist's residency Gabi Schaffner traveled to Madrid for a research project on local garden cultures and radio making. "Un Jardín en el Aire" broadcast from the community garden of "Esta es una Plaza" in an inspired community with radiophile artists and local gardeners. Realised in cooperation with Medialab Prado and In-Sonora 10. Datscha Radio Madrid's artists: Alberto García, Anna Katarina Martin, Eva Kurly, Carolina Carrubba, Joaquin Diaz, Alberto Peralta.

2017: In August 2017 Datscha Radio broadcast from again to its "Heimat"- garden in Berlin Pankow, with the joint support of Colaboradio and Pi Radio Verbund Berlin. The focus was on the futures of gardening and its economies as well as on the environmental changes in our flora and fauna.
Datscha Radio 17 was realised by: Gabi Schaffner, Kate Donovan, Niki Makita, Helen Thein, Suki Shanti Osman und Verena Kuni.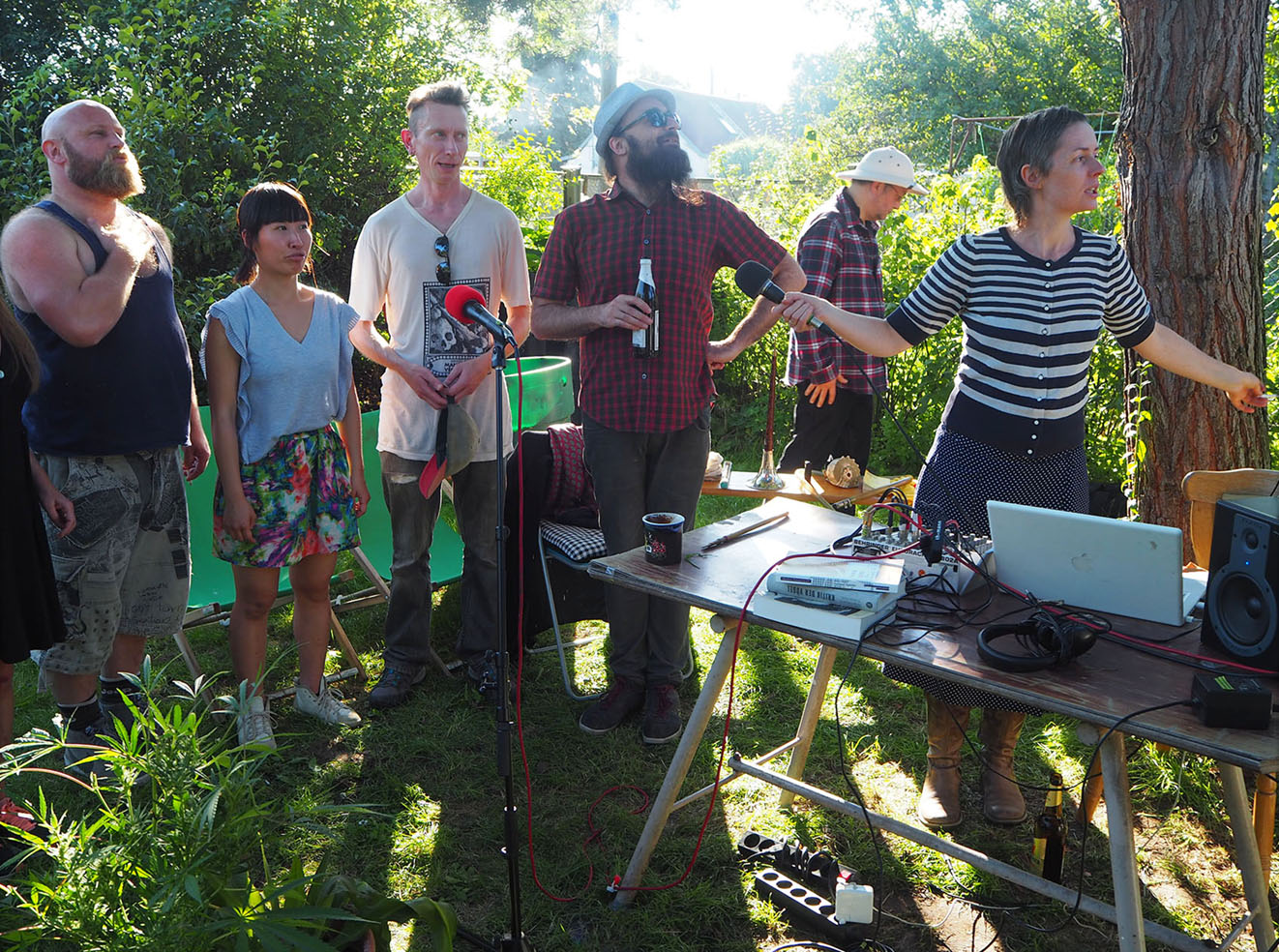 Download the 2017 documentation HERE.
When not actively on air Datscha Radio is maintained as a blog archive documenting the various ecological and garden-related issues encountered by the artist in the pursuit of her work: Interviews and photographic diaries, essays and botanical excursions.
Past Events
2014: 100 Days of Datscha Radio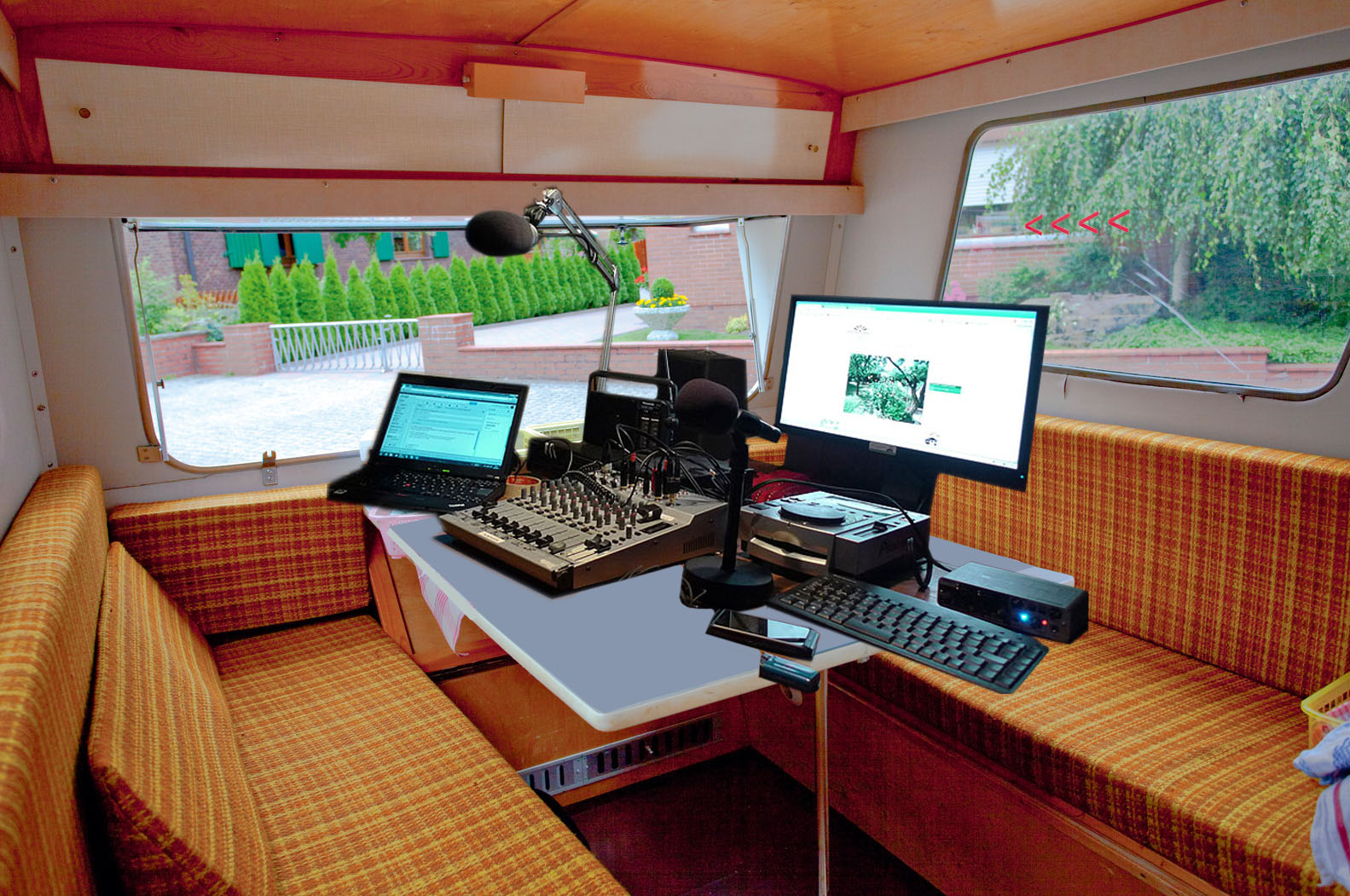 For 100 days Datscharadio carried out research on the premises of the Giessen Landesgartenschau with a focus on the phenomena of German garden culture. A converted ex-GDR caravan served as our radio and research homestead. Our aim was the exploration of local traditions and perspectives of gardening while using a variety of documentary modes. In the course of our research a public archive was created consisting of ethnographic field notes, photographs, protocols, talks and sounds.
Instead of processing these multitudes of data into scientific knowledge they were instantly broadcast via the medium of radio. A so-called "Audiokomposter" developed by Pit Schultz decomposed the material and turned it into a continually changing soundscape. This process of composting and decomposition found its poetic counterpoint in the untamed growth of plants around the caravan. In August, a one-day festival invited guests and visitors to further discussion and participation.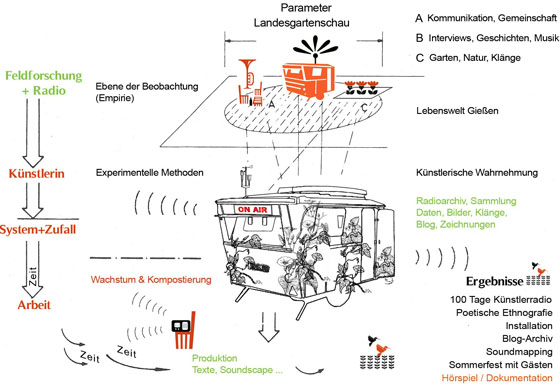 2012 Datscharadio


A Garden in The Air

The Idea
Since the late 80s of the 20th century the garden has increasingly gained the attention of the public eye: in terms of aesthetics, history and ecology. As a definite place, the garden can take variable shapes, from ornamental to kitchen gardens, from castle gardens to cloister gardens. Being located between nature and culture, the garden has been a place for the production of art and architecture, of literature and music.
The garden functions as a mirror of social and political spheres, while being a metaphor for a lost paradise beyond all worldly orders. You can find "the garden" as a model imprinted on bio-technology and futurology and as an underlying principle in social networks and computer programming.
The garden's true potential, though, does not ground on its functionalisation as a model to be fitted into other faculties. It is founded in the garden itself, in its multi-faceted resources that alternate, take turns, complete each other and which, in their mutability, create a wealth of new points of contact. A garden is not just one place, it is many places. And it is not just a system, it is many systems.
Datscha-Radio
Datscha-Radio takes the garden in all its diversity as its foundation and taps its full potentials: straight on site, out of nature and plants, from the knowledge of the gardeners and from the inexhaustible richness of the worlds linked to the garden. The combination of "garden" and radio technology touches the very boundaries between the real and the imaginary, between the material and the visionary worlds. Datscha Radio is an art and culture project and is subsidized by the faculty for art and culture of the district council Pankow, Berlin.
Datscha Radio lives in the garden, works in the garden and broadcasts from the garden. You will hear the voices of: Gardeners and neighbours, artists (with an emphasis in their work on gardening/nature), surprise guests and curators. And just like any good gardener shares her most valuable plants with her neighbours, Datscha Radio is co-operating in exchange with other international radio stations.
Berlin – Rosenthal
Rosenthal, church (Photo: Hasemuck 64)
Berlin is the city with the greatest number of "Schrebergardens" (private garden plots for self subsistence) in Germany. Thus, the garden(plot) culture forms a vital part of the diverse cultures of Berlin since its beginnings from the late 18th century. During the 90s the Schrebergarden gained increasing attention as an economic and ecologic model, as sociocultural topic and as an urban sanctuary and recreational haven.
At the same time, Berlin is one of the most international cities of the world. And the gardens of the association "Einigkeit" ("Unity") with their almost 1000 garden plots form one one Berlins biggest garden communities. Datscha-Radio is located in the Oreganoweg 11, plot no. 665, of the "Garten- und Siedlergemeinschaft Einigkeit e. V" ("Gardening and Estate Association Unitiy). Our place is mix-used, partly kitchen garden, flowers and fruit trees, the "datscha" has approx. 60 sqm. (including the winter garden).
Garden politics
Less than 200 m distant from the No. 665 and until 1989, ran the Berlin wall which separated the East German "Rosenthal" from the Western "Maerkisches Viertel". The gardens of the "Einigkeit" exist since 1915. After the turnaround, the gardens were still considered as "garden plots", but soon after a juristic tug of war concerning their official status started that lasts to date. The reason lies in the size of the plots (on average 600 sqm.) and their partly quite extensive development which runs contrary to the German laws on garden plots. In 2005, the garden "plots" of the "Einigkeit" lost their "plot" status. The district office designed a plan for "partly removal" plus for a conversion of the plots into building land. In a series of relentless negotiations the "Einigkeit" succeeded in consolidating the juridical status of the gardens as one of a "protected recreational park"… at least until 2025.
With Datscha Radio, there is another voice to support the preservation of the gardens of the "Einigkeit".
The winter garden. As yet without radio equipment
Contents

Datscha Radio presents a mix of fixed features, live events and music. For broadcasting, the wintergarden will be converted into a studio.
www.datscharadio.de serves as an online documentation and sound archive. Excerpts from broadcasts, texts, links and a selection of the biographies and works of the participating artists will be available to the public (partly as downloads too).
A less extensive selection of material is already assembled into a small catalogue.
Supporters and sponsors of Datscha-Radio 2012
Garten- und Siedlergemeinschaft Einigkeit e. V.
The Council for Advanced Education and Culture Pankow

Rindchen's Weinkontor. Berlin – Charlottenburg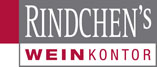 This post is also available in: German