OrchardFruitRadio Oct.1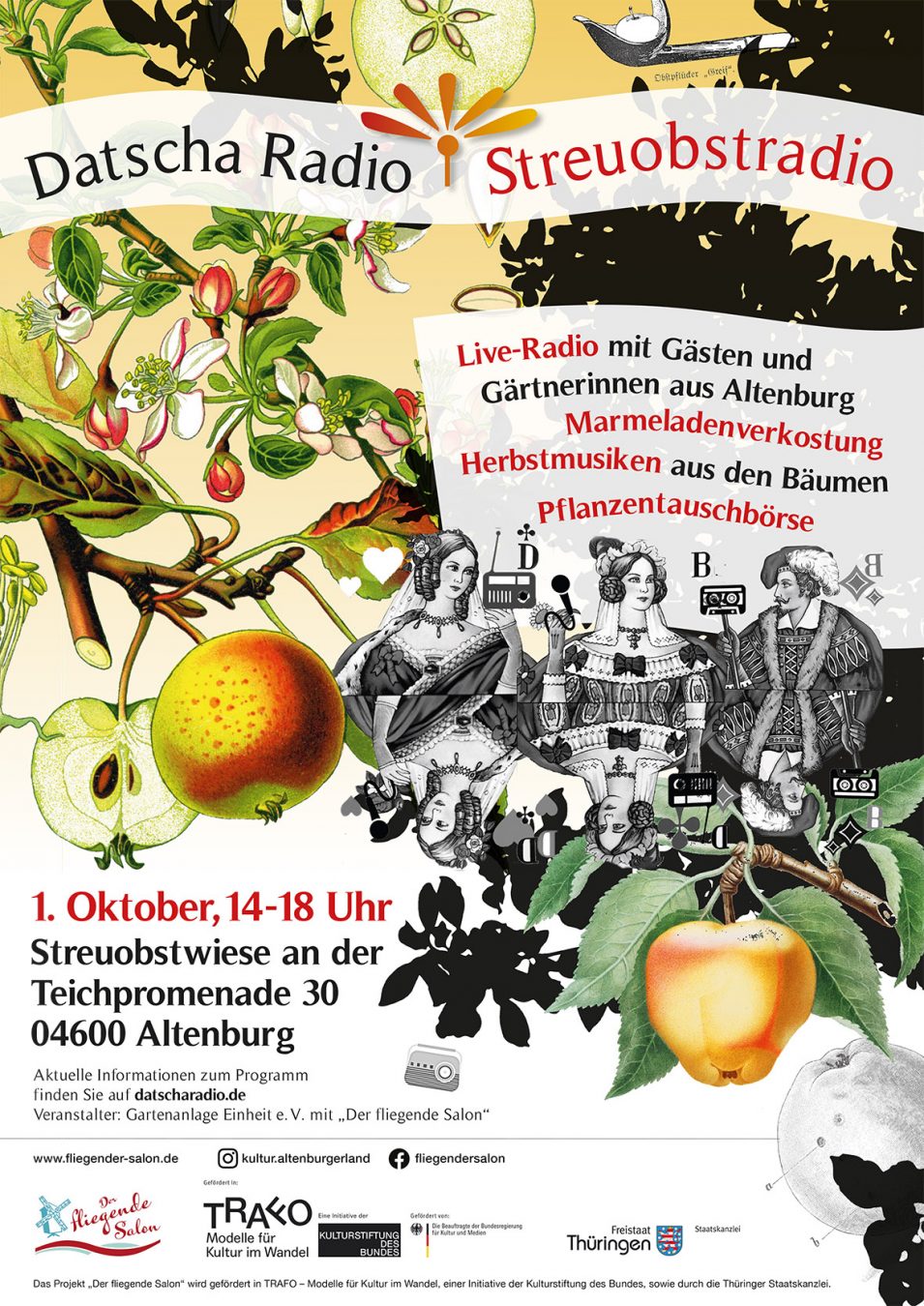 Poster design: Büro Stangl
Our program on October 1 combines radio and apple lore, hospitality and long distance, FM broadcasting and sound garden into a 4-hour event under the trees of the meadow orchard in Altenburg. Freshly shaken and finely shaken we have also our new announcement!
Datscha Radio can be heard internationally in the player on this website, locally on FM 90.6 around the meadow, and additionally on cashmereradio.com.
We are looking forward to our radio guests, to the upcoming conversations and are ourselves excited about the course of our day, because as always, the program will be fluid and in harmony with our guests and the submissions to our Open Call. We hope for many delicious jams, which we would like to taste live on the radio from 16:30.
We would like to give a provisional overview here, but the times given are not to be taken too precisely.
Program
14:00 Presentation of Datscha Radio – Reflections on harvesting and apples – Songs
14:15 Grit Martinez from Einheit e.V.: The historical Altenburg Orchard I –
Sound piece
14:30 Grit Martinez: The garden book by Johannes Böttner
14:40 The Open Call Artists and their works. + Sound piece
15:00 Marcus-Andreas Mohr. The photographer from Halle has turned to literature. We will hear excerpts from and talk about his latest work, "Atlas of the Earths".
Music / sound pieces of the OpenCall / spontaneous guests
15:45 Apple cider special + marmalade meditations / plant fair
16:30 Sensual Tasting: Jam Jubelees from Altenburg
17:10 Viktoria Scholz, "Social Harvest": A talk about her work as a citizen artist
Music
17:40 Meadow walk – future prospects: developments of the allotment garden landscape in Altenburg
This post is also available in: German