Preparations
22. March 2018
Very well… we started to prepare the "domo" around 6 the evening before. The place was swarming with young parents and their toddlers, some gardeners, idle youngsters… Eva brings a big green box that contains her herbarium. We swept the gravel off the floor, wiped the table, found some chairs (one in the trash close to the entrance) and stuck a handful of remaining posters to the walls of the neighborhood. We passed a blue-eyed dog in a duffle coat (Madrid dogs often wear coats as long as the temperatures are still below 15 degrees:) and went for a beer.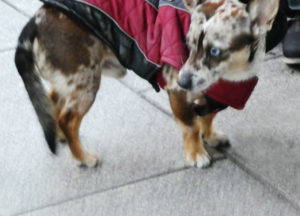 Radio Gardening in Madrid
23. March 2018. Meeting at 9:15 at the entrance of Esta es Una Plaza; Caroline of Radio Hortelana had already opened the gate. Setting-up: All went well – thanks to ingenious Jesús of Medialab who had already made some tests the day before. Just like with Datscha Radio 17, we use the "Butt"-app for streaming and transmit via Udo Noll's aporee streaming server.
The Plaza's cat makes its appearance.
10:20 Eva, Kata and Joaquín arrive. Plants, sensors and watering cans are arranged next to the high bed of homeless cacti.
Maite takes pictures for the In-Sonora docu. Carolina has brought coffee, her Kalimba and a guitar.
11:50 Alberto of Esta es Una Plaza turns up. We are all happy and exited.
1st – 3rd hour

12:00 Here we go! Hola! Datscha Radio a tope!
After the introductions Carolina plays her kalimba to the sounds of gushing rain: An anti-rain spell that we hope will protect us from worse. Because rain for Madrid people is the most welcome excuse to stay at home! Apart from that, our electricity is provided from a solar battery – we are indeed a very ecological radio station!
13:00 Our program flows smoothly! A roughly by the hour organized schedule serves for orientation, all artists are bilingual, so we manage quite well with the translations.
Below you'll find (later!!!!) an updated version of the program plan – the audio files will be shared on mix cloud asap (but not before 3rd of April). For now, let us look at some of the radio events of the day. Have fun!
14:15 Rain has finally come. Kata and Joaquín perform an astonishing set with plant radio music, sensors transforming the moisture levels of different plant pots and the green's voltage into a soundscape with harmonica.
The cat loves it so much, it goes to sit on the roof just above our heads. A talk about listening and the rain.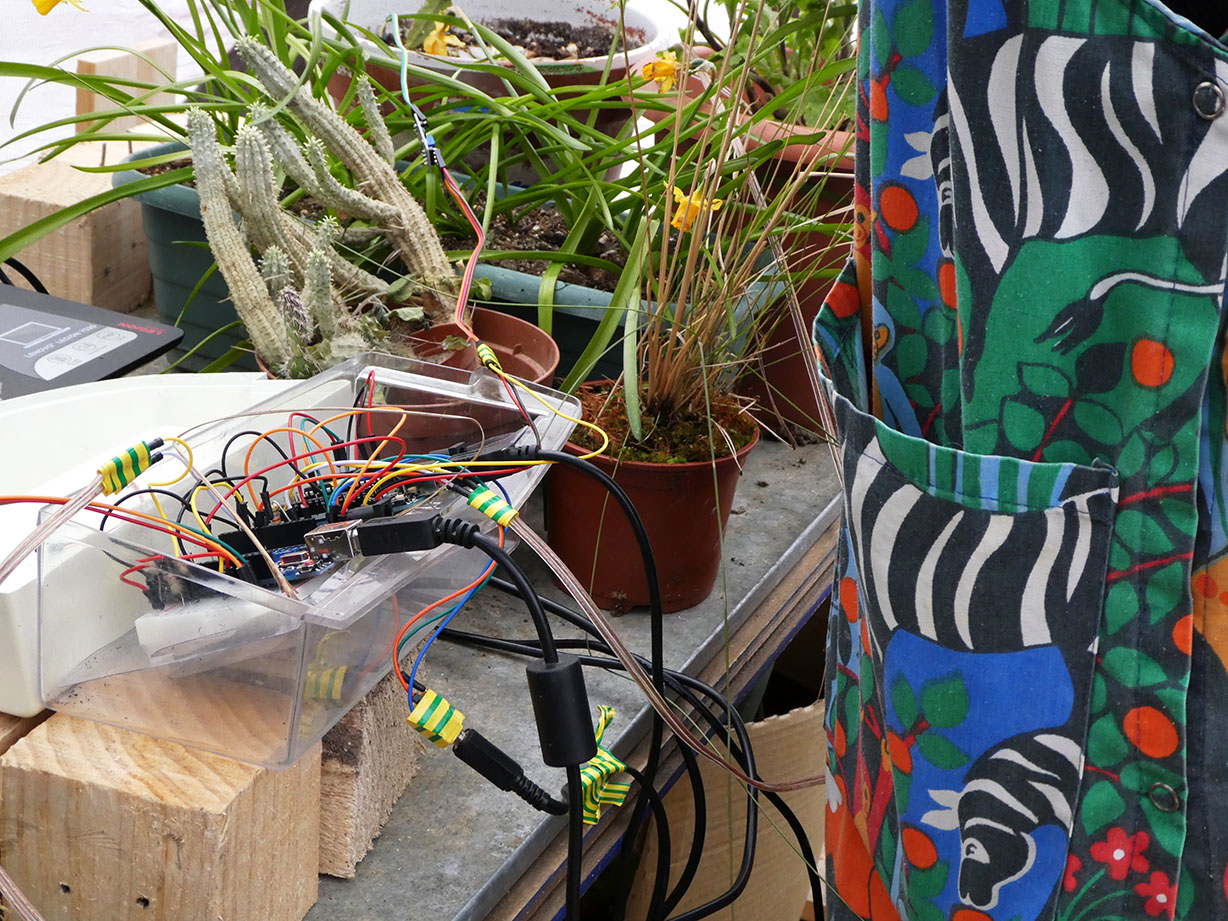 Power cut!
Unfortunately the solar energy runs out…For some minutes we still broadcast on batteries but then we decide to interrupt our program.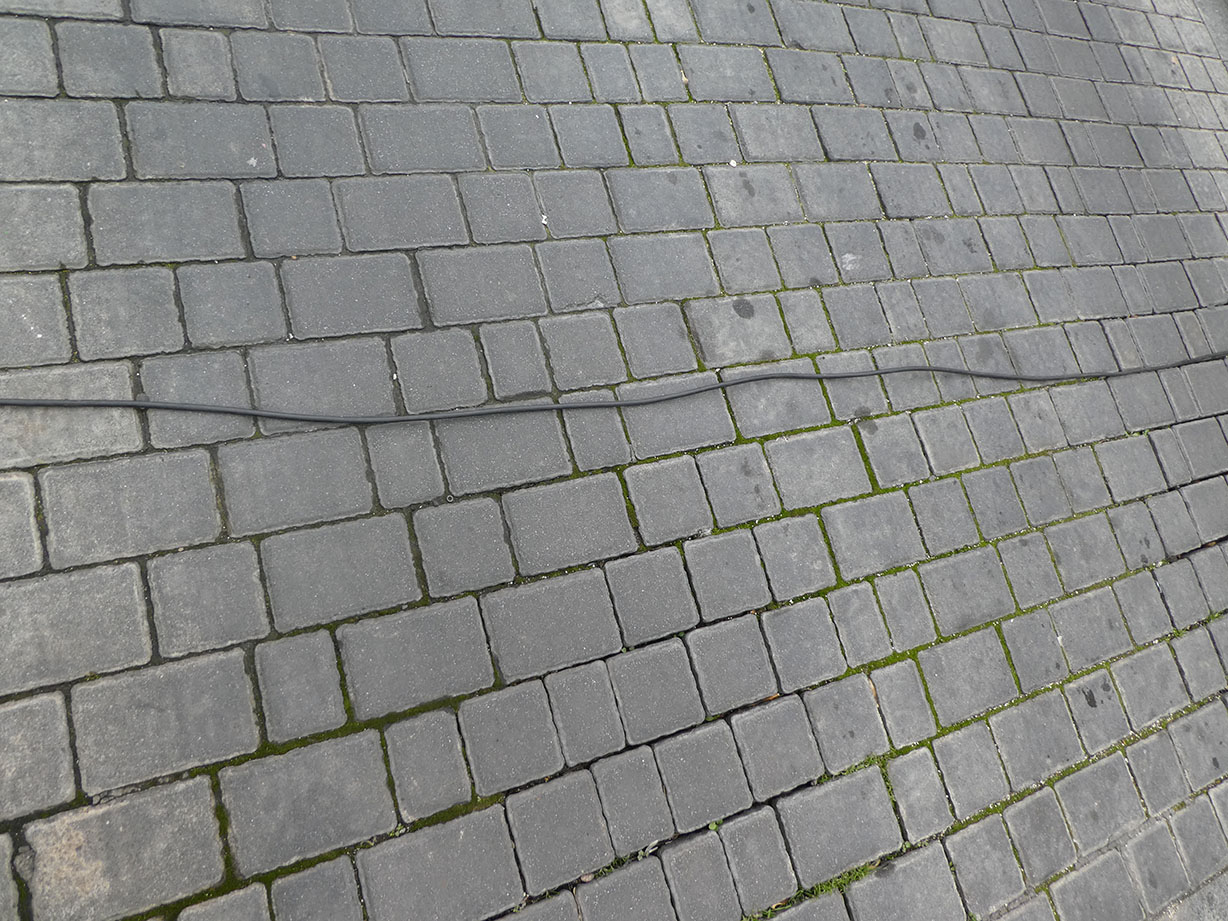 14:45 Datscha Radio is back again on the air waves! One of the gardeners provided a connection from his neighboring house to the studio! The rain has stopped, the cat gets back in.
4rd – 6th hour…
We continue with the theme of plant talks: Eva Kurly presents her herbarium and introduced the African all-edible Moringa tree. Carolina plays and sings a poem from Argentinia. Santiago, who was working outside comes in an explains what they are presently building. Alberto has prepared two interviews about plant names and balcony plants with his parents. A delightful conversation, each one made over the telephone, the crackling interference in their voices making us forget the digital age.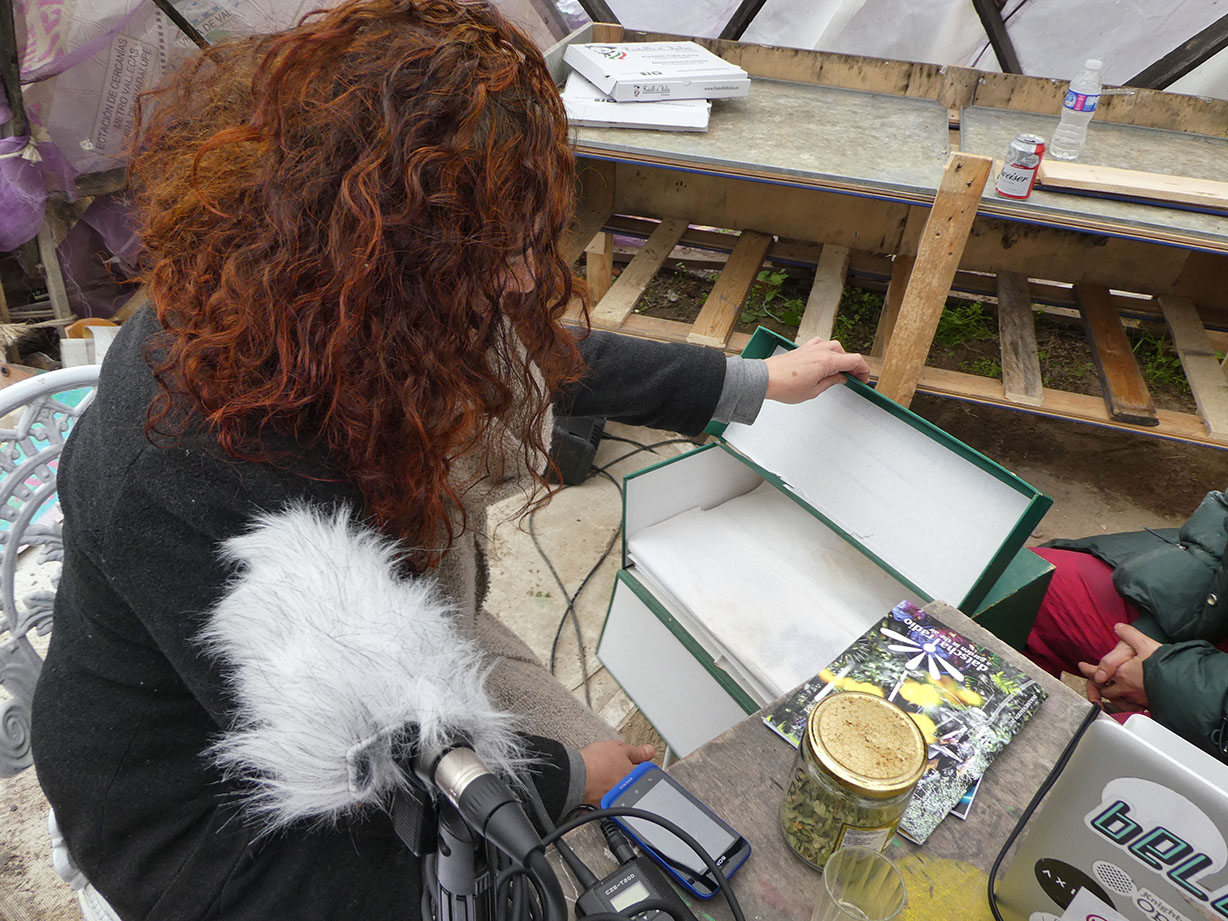 17:00 A storm of theatre people blows into our tent: They are scheduled for a show in a venue nearby but somehow found this garden. Despite being in a hurry they improvise a vocal piece for us:) Listening to an interview from India about the Botanic Sanctuary in Gurukula and the preservation of vegetal microclimates. Appearance of Rafa from the artist organization The Hug. He brings music of Lau Mau, a Finnish singer whose work is closely connected to nature themes.
17:50 We still have unplayed recordings, yet it's time for a resume of the broadcast material. Maite comes back and reintroduces the work of In-Sonora and talks about the festival planned for the next day.
18:00 The official end is postponed by half an hour because of the program interruption. We listen to Miyuki Jokiranta's vocal encounters with her houseplants and finally to two excerpts of the "Atomic Garden" by Alberto.
18:30 A gathering around the microphones, Thank you, dear listeners! Datscha Radio a tope!!!
Read More