Tagebuch am Sonntag: Gärten in Gärten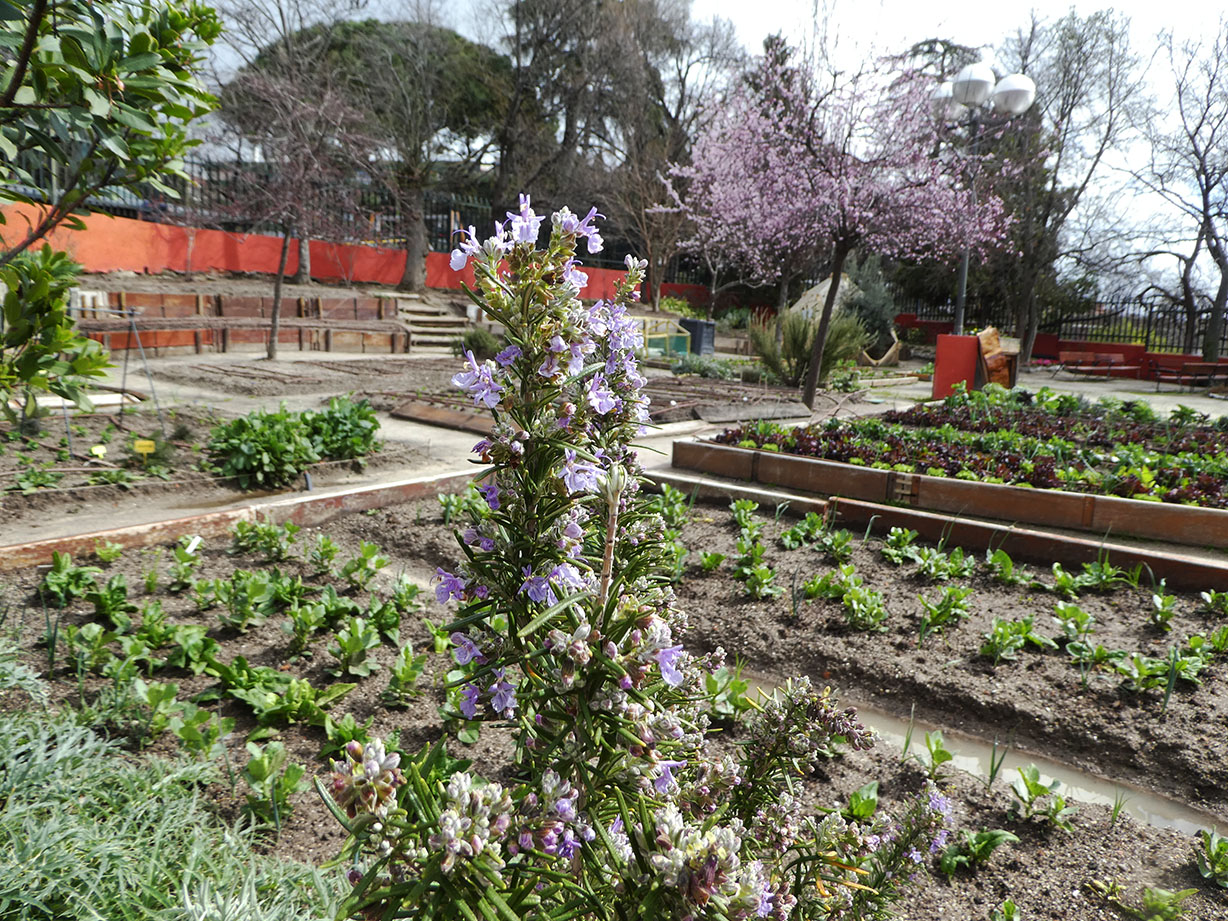 (Übersetzung folgt) Here's a very quick update on what is happening in Madrid with Datscha Radio – and an diary of how I spent my day so far.
9:20
Call from Carolina from Radio Hortelana to say that we meet in a different place at 10:45. I'm at my first coffee and not fully awake. Writing quick mail to the collaborating artists (which will be introduced here asap) about next plans, ideas & meeting.
10:45
Walking very fast up to the Casa Endencida to meet Elena and Caroline from Radio Hortelana. Introductions, coffee, explaining Datscha Radio Madrid.
The plan: Setting up the radio station in the urban garden of Esta es Una Plaza. Date: Friday 23rd of March. Before that: Adopt-a-Office on the 17th in the yard of MediaLab, little performance by myself, conversations about plants that seek a new home.
Question: Is there electricity in the garden?
I am very happy that Radio Hortelana (who did a garden broadcast at Esta es Una Plaza some years ago!) will help with the project! We agree that I send a resume of all facts to Elena, Caroline and the Insonora network tonight.
11:15
Introduction to Daniel Sigler, who had been sitting next to us reading El Pais, a friend of both, a gardener, keeper of the garden "Cabaña de Retiro". He loves the idea.
12:00
We all go to Esta es Una Plaza to find out about electricity.
I get introduced to Tommi (Carolina: "He's the best") who would help with technical things, and to Luis who explaines that there is solar powered electricity. He shows us the transformer and the plugs in the different places in the garden. I update my Spanish vocabulary with the word grabadora (Recorder). I get introduced to more helpful people.
12:45
Leaving the Plaza to go to the agricultural market in the Retiro Park. Stormy weather. I walk with Daniel who tells me about his garden project there. He also tells me about his work as a shiatsu practitioner and that he can do throat singing. I love the idea.
13:00
On reaching the Retiro I decide to switch on the grabadora, our conversation is just too interesting. There is the recorder, rain and Daniel's umbrella. I don't carry one for diverse reasons, but he says it's because i am German.
We reach his "garden within the garden" called Aula de ecología: La Cabaña del Retiro. He shows me around (gallery and more about La Cabaña in a later post). There is a hand made wooden geodetic tent with cut-outs that let the sun shine in and make pattern on the floor. It is a good place for singing, also because of its special resonant qualities.
Daniel asks me to close my eyes and starts singing. I sit on the wooden trunk in the middle of the space, listen and record. (Recording of audio walk and singing: to be broadcast on 23rd:) )
13:45
Salad needs to get picked to bring to the market. I receive a selection of healthy greens and explain the German onomatopoetics of "Pflücksalat".
14:00
Walk to the Mercado Agroecológico en el CIEA Huerto del Retiro that takes place in another garden (section) of the Retiro: Stalls with honey, cheese, biologically brewed beers, jams and quiche. I am hungry and need to eat, try and buy specialities.
14:30
Introduction of Alberto, head of the Huerto del Retiro. Agreement to do an interview via Daniel as a translator. Saying goodbye for this time. Tasting a lovely bio Weizenbier! Taking some pics, among them the map of urban gardens in Madrid. What you see here is just a quarter of it.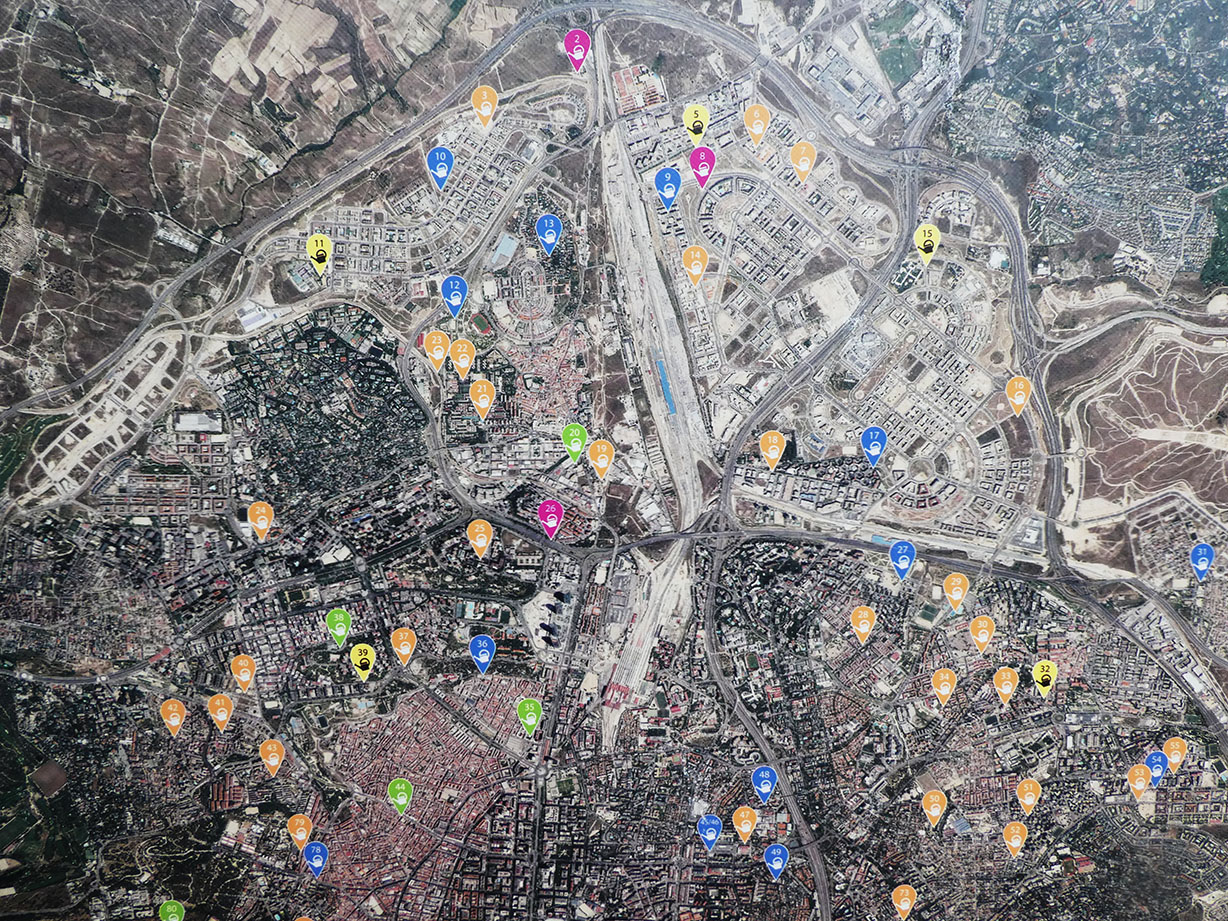 14:45
Return to Medialab through rainstorms. Making a mental note to maybe take pictures of Madrid dogs that wear raincoats.
15:10
Arrival at Medialab, switching on the heater, sitting down to write this.
… so far. All dates and times mentioned will be verified very soon as exta blog posts, Facebook events and other possible channels.
This post is also available in: Englisch