Ein Rosengarten in El Paso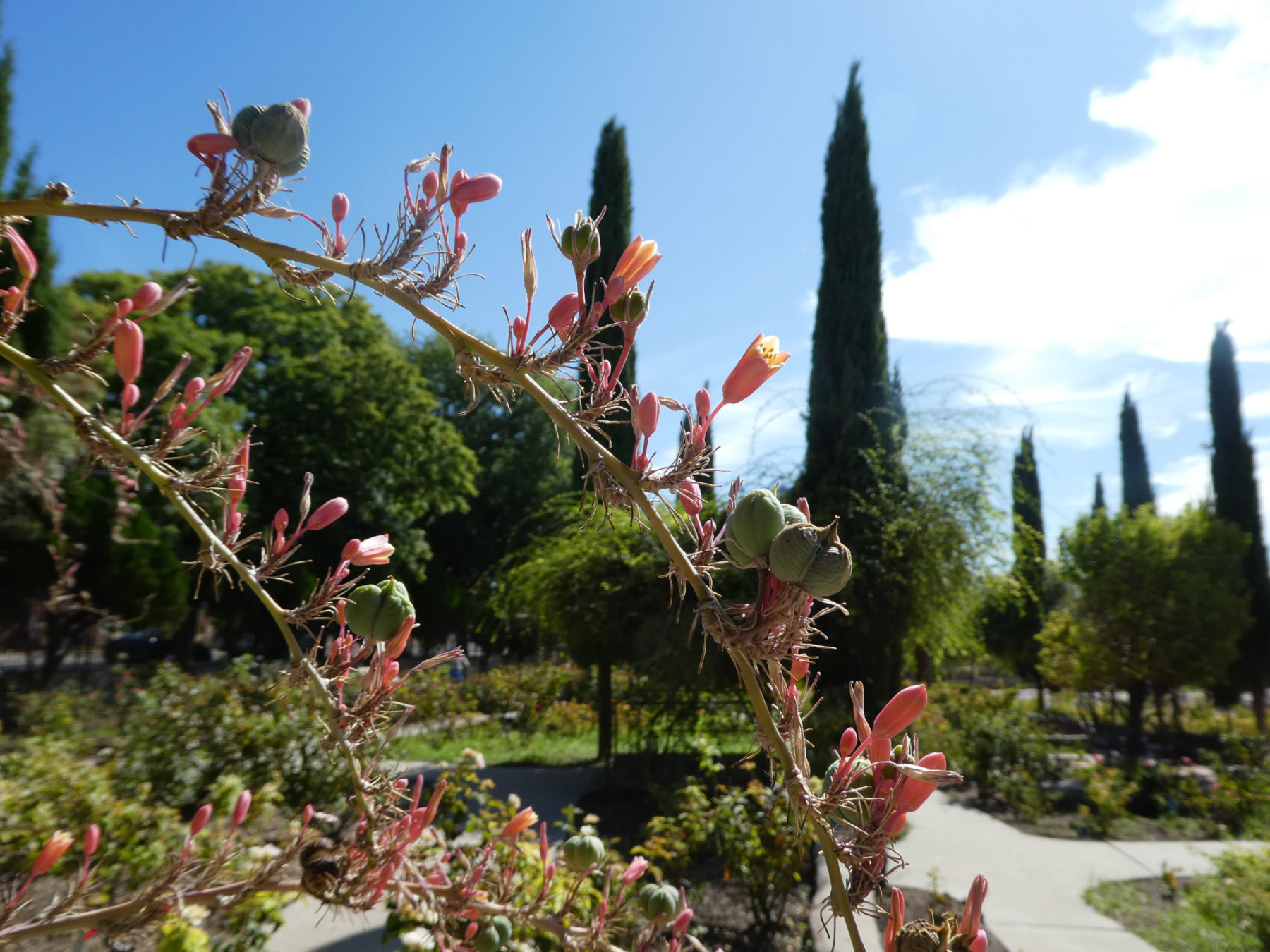 (Übersetzung folgt) "Aspirin is very good", Patrick says, "but take care you buy uncoated tablets only", and he's not talking about his head but about the roses of the ELP Municipal Rose Garden on 710 Aurora Drive. We stand in the blazing heat and are talking roses.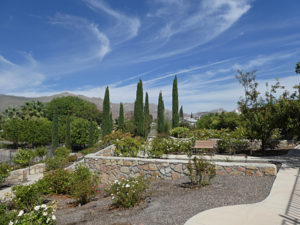 A rose garden always seems to be a formal matter and the El Paso rose garden makes no exception. Its surrounding walls are whitewashed, the paths and plots follow prescibed horticultural plans, and yet, the neighborhood seems rather unimpressed. A police car is the only vehicle on the gravel parking lot of the garden. Teenagers in yellow shirts jump up and down under the terracotta colored roof of a nearby school. In front and behind the walls, rows of Hespealoes (Red Yucca) show off their last blossoms on gracious stalks, with black seeds spilling out of elegantly shaped pods.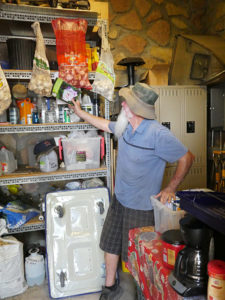 Patrick is about 70, wears checkered trousers and a Catweasel-like beard. How come we started talking about the roses? He was working at a stretch of red shrub varieties. We admired him and the roses, unfilled simple red blossoms on age-grey sun-battered strong stems: desert hardy roses. And as it turned out, desert hardy roses were a favorite theme of Patrick who starts at 7 in the morning and has been working for the past 11 years in this garden.
He leads us to a shed where the gardeners stash garlic and onions to fight off the white fly, baking power against soil pests and aspirin against black spot desease and yellow leaves.
"If your roses becomes weak and sick, a good spell of aspirin helps them recover their health again", says Patrick.
Desert roses are bred on rose wood that is not the European Rosa Canina but the (still!) hardier and heat resistant desert rose Rosa Stellata. They are bred to withstand the enormous temperatures encountered in the regions of Texas, New Mexico and and and.
The El Paso bushes, – floribundas and tea hybrids – bear mostly simple open blossoms, many of them with a strong, quite varied scent. Some are like apple, others almost cinnamon, others like old scented wood. Patrick shows us a box with carefully ordered notes and leaflets addressing the special needs of desert roses. "Worst of all is the wind", he says.
He takes us back to his pruning work, a basket full of grey wood and wilted flowers stands next to him. Of course, he has the shears ready anytime, stashed in a leather sheath fixed to his belt. Next to the basket leans a very reliable looking pair of lobbers.
One of our questions seemingly puzzles him. "How about lavender?", I had asked, to fight off the pests and give the roses company. "This has never been taken into consideration or planning… though, from now on I'll think on it", he says.
The sun has called its tribute already. The roses, hardly opened up, fold their leaves exhaustedly together, the rims of their petals at times even dried up before the whole flower has opened. Against one of the fences leans a tattered New Dawn, evidently unfit for this desert climate and close to fainting. Maybe this is a reason for the floribunda's preference and also for the selection and breeding of smaller flowers. The resident tea hybrids of course still have prominent blossoms, but these are not always as much scented as one would suspect. Some have almost Dahlia-like spirally arranged petals, some variegated in while and red, or yellow and red.
The Municipal rose garden has quite a bit of staff to care for its roses, next to Patrick there is another elderly gardener (sturdier but with no beard and rather in his 60is) and a young woman who sets herself to work just as we are leaving the garden. In our bags we carry a small catalogue on desert roses and the inevitable leaflet on how to fight common pests and pruning.

One last theme: Almost all roses in the Municipal Rose Garden are American bred, the greatest part of them during the 50s and 60s. Their names convey quite accurately the diptych of culture and patriotism while a third section refers to their brilliance of colours: "Judy Garland", "Betty Boop", "Freedom", "Roosevelt", "Veteran's Honor", "Fourth of July", "Proud Land", "Prairie Lass", "Purple Passion" and of course, "Knock Out"…
This post is also available in: Englisch