Waldmeister-Bowle !
Waldmeisterbowle… und wie sie gemacht wird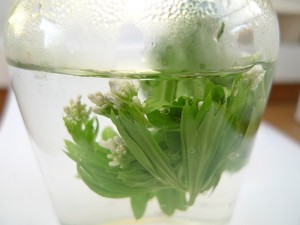 Übersetzung folgt
Most interesting question I found myself asked when serving the "Waldmeister-Bowle": "Now, is it poisenous? Will I see things different?" My usual answer: "No, it is not. And well, if you start seeing tiny green ladies in the grass waving their flower-shaped umbrellas at you… this is something which might just happen."
Procedure of preparation:
Pick the plant in late April/early May
Let it wilt in the sunshine (important!)
Bundle it up
Prepare a solution of sugar in hot water (500 ml at least)
Put the bundles in with their stalks turned up.
(This keeps the most part of the coumarin out, whereas the aroma seeps into the sugary solution)
Let rest for at least 3 hours or overnight
Strain the essence (with a coffee filter or similar)
Pour it into a small bottle or decanter for immediate use.
The pictures in the gallery illustrate the above.
For the cold punch you need:
200-350 ml of woodruff essence
2 bottles of dry white wine
1 bottle of sparkling water
… to be refilled according to the wishes of your guests.
Botanical info:
Galium odoratum syn. Asperula odorata, is a flowering perennial plant in the family Rubiaceae, native to Europe, North Africa and Western Asia. A herbaceous plant, it grows to 30-50 cm (12-20 ins.) long, often lying flat on the ground or supported by other plants. Its vernacular names include woodruff, sweet woodruff, and wild baby's breath; master of the woods would be a literal translation of the German Waldmeister. It owes its sweet smell to the odiferous agent coumarin, and is sometimes used as a flavoring agent due to its content of this chemical. (Wikipedia)
This post is also available in: Englisch