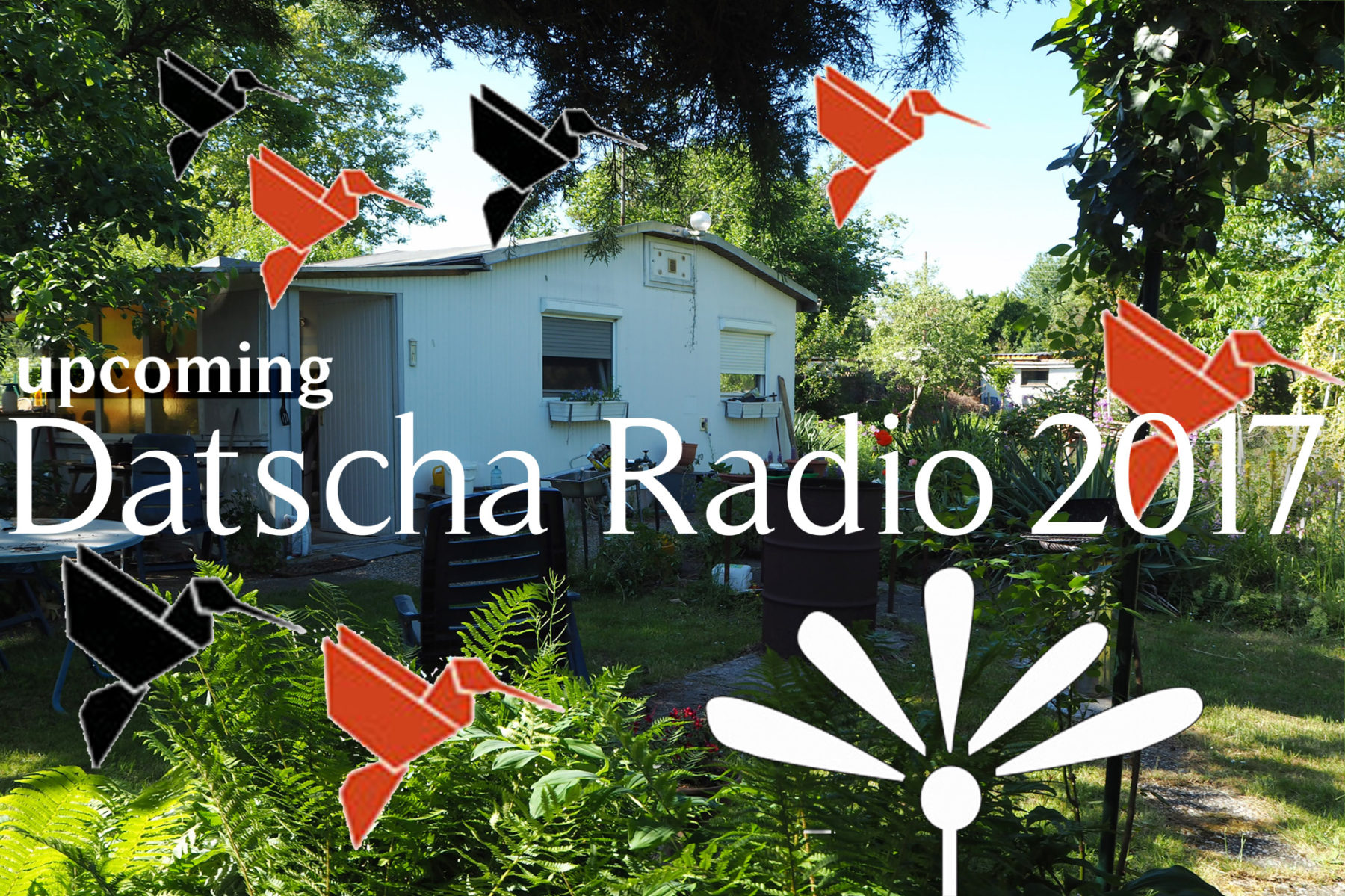 25 – 29 August 2017
Plots & Prophecies | Parzellenprognosen
A five-day programme combining radio, gardening, hospitality and contemporary discourse in a live radio festival in a garden in the North of Berlin. Datscha Radio 17 used radio as an artistic medium and as a source of inspiration and action. The process of radio making – otherwise quite a hidden event – became transparent in the winter garden of the house. Creative, interdisciplinary and open to everybody, Datscha Radio 17 transformed the privacy of the allotment garden into a public space for art and communication.
With "Plots and Prophecies", Datscha Radio took a look at the future of gardening, the links between biology and technology, and at the changing role of people in this world. Something has shifted in the old imbalance of flora and fauna … and we cannot be so sure that our present awareness will suffice to put these changes into a dialogue with the environment.
5 days = 5 themes
The Datscha radio garden assembled practitioners, gardeners and guests from various fields: music and performance, science and art, local and international.
Together we traced and listened to the diverse voices, sounds, imprints and languages of the garden. We broadcasted in German and English, but there were other languages heard as well.
Our documentation.
Intro: Plots & Prophecies | Parzellenprognosen Essay: Gabi Schaffner
Day 1: Hortus Politicus (Friday, 25.08.2017) Essay: Shanti Suki Osman
Day 2: New Symbioses (Saturday, 26.08.2017) Essay: Gabi Schaffner
Day 3: Biotope in Future II (Sunday, 27.08.2017) Essay: Verena Kuni
Day 4: Bees and Birds (Monday, 28.08.2017) Essay: Niki Matita
Day 5: Subterranean Meditations (Tuesday, 29.08.2017) Essay: Kate Donovan
Outro: Echo Essay Rafik Will
Our Open Call invited international sound gardeners and radiophiles to participate by applying (with broadcasts / features / compositions).
We could be heard:
online at www.datscharadio.de
over micro-FM in the surrounding of the garden
at selected times on the 88.4 Berlin and 90.7 in Potsdam
In the Audio Archive the programms, features and interviews of Datscha Radio 17 can be found.
This post is also available in: German